Bohol is one of the top island destinations in the Philippines mainly because of the Chocolate Hills, Tarsiers and its pristine white sand beaches. Thousands of tourists from all over the world visit the island every day and that is why local businesses try to think of innovative ways to attract more and more tourists. Adventure rides are fast-becoming a fad and tourists just love it! Here are the exciting adventure rides in Bohol, you shouldn't miss.
Ziplines are a staple activity in every famous place for the reason that people just love to have a bird's eye-view and see the area from a different perspective. The Loboc Eco-Adventure Park offers tourists a 400-meter zipline on top of the world-famous Loboc River. With harness-intact, you can do the regular sitting-down pose or for the more adventurous, the superman-pose is highly recommended. It's the closest thing you can get to flying without any superhero powers needed. The park offers a very good deal with a combo package of a one-way ticket for the zipline and a return ticket for their new cable car.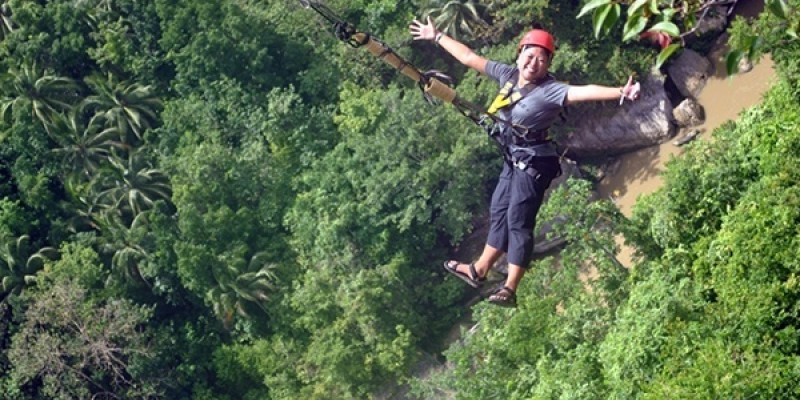 I know the zipline can already give you exhilarating thrill but sometimes people would still crave for more. And that is what Chocolate Hills Adventure Park (CHAP) is boasting, the Bike Zipline also known as "The Rush", is an exciting twist from the regular zipline. This time you ride a bike and you have to really pedal your way to the other side while suspended 150-feet above ground. What makes it more thrilling is that you have the best panoramic view of the Chocolate Hills. So a strong knee plus a good effort is needed to complete the whole adventure.
If bicycles are not really your thing but an ordinary zipline for you is boring then maybe the newest attraction from CHAP would be more appealing to you. "The Wave Runner" or Surf Zipline is the first and the only zipline in the whole of Asia where you stand on top of a surfboard and "surf" through the air while hovering 230-feet above ground. No definite skill needed just pure guts to try this new ride out.
Still not thrilled enough? Why not go to Danao Eco-Adventure Park and just do the extreme right away. "The Plunge" would be the right fit for adventurers who want to get the thrill of a lifetime. You have to have an audacious spirit so you can survive the canyon drop just a little over 200 meters above a raging river. A split second drop that would blur your vision, hold your breath and stop your courageous heart from beating. The adventure still doesn't stop there, as if dropping you was not enough, the momentum will make a pendulum out of you by swinging you back and forth with only a single sturdy rope holding you from falling down the canopy of trees. Once you recovered your sanity from the crazy thing you just did, you won't help but admire the gorgeous lush ravine underneath you. Nature and extreme adventure in one single ride is just pure bliss for the brave and bold.
So when you visit the beautiful island of Bohol, level up your trip by adding one or two of these rides that will definitely get your adrenaline pumping. Don't forget to bring your guts with you though, because you would need tons of it.