No need to go any further, Jacksonville is a place you can find it all. Over 20 miles of clean uncrowded beaches, a beautiful riverfront downtown, great restaurants, family attractions, golf courses, kayaking, nightlife, and shopping.
If your idea of a vacation involves a beach, Jacksonville has the beach for you. Whether you prefer reading a book while working on your tan, strolling the water's edge with your kids, or surfing and parasailing, you could do it all here. Among the area, beaches are May 4th, Atlantic, Neptune, and Jacksonville Beach which features a 1,000-foot fishing pier custom-built for fishermen and sightseer. You can also choose to explore the beaches and river waterways by marine taxi, a fishing charter, or by kayak.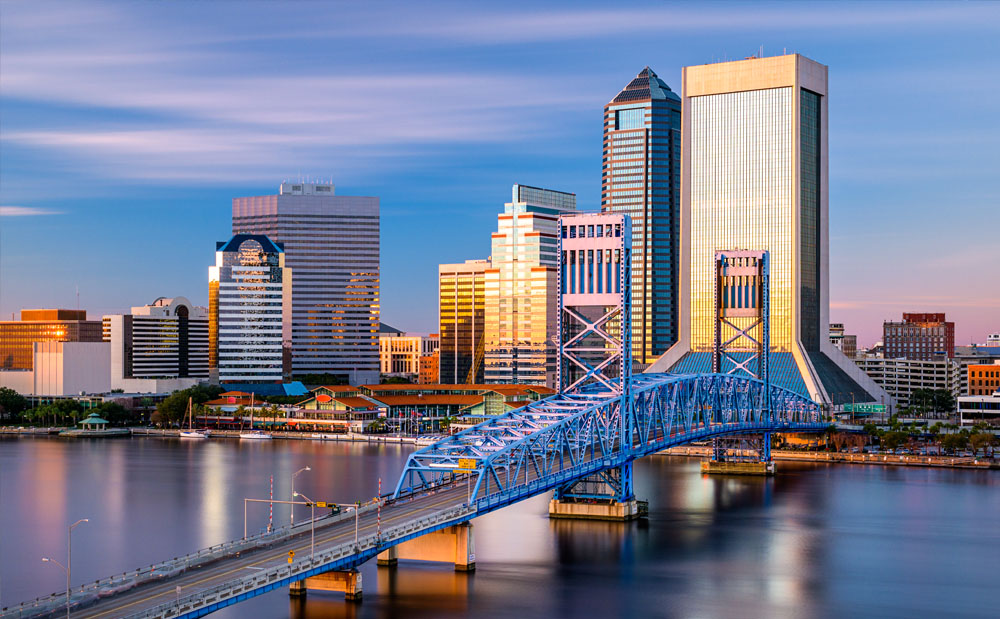 Done with the beach or just looking for something else to do, there's plenty to choose from. Take the family to Jacksonville Zoo and Gardens, join an afternoon tour of the Budweiser brewery, or pick up tickets to the Jacksonville Symphony Orchestra. If golf is your passion, choose from world-class courses including travel and leisure's number one, the TPC Sawgrass.
Jacksonville is also home to the largest urban park system in the country, where visitors can explore on foot the city's history, wildlife, and nature. Jacksonville dining blends inspire casual elegance and classic southern comfort. Choose from upscale locales like Bistro X, a city hip restaurant with a seasonally inspired menu and a passion for wines. Or innovative and elegant for diamond rated locales like Matthews, or order a plate of fried shrimp at the River City Brewing Company and enjoy the riverfront.
Shopping is an important element of some people's vacations and Jacksonville has just the right choice for any taste and budget. Whether you are looking for a bargain at any of the areas' main outlet centers, hunting for vintage and antiques at Five Points or Avonlea antiques, or in search of upscale merchandise at San Marco and Avondale, you won't leave empty-handed. You can also find just about any modern retailer at the avenues or St. John's town center. It has pretty much everything you could possibly want – fabulous shopping, dining, and a great place for the locals to go out at night.
When it comes to places to stay, you can choose from sleek upscale beachside resorts just steps away from Atlantic Beach. There are luxury downtown hotels and any number of welcoming bed-and-breakfasts. There are also plenty of hotels conveniently located near all the major attractions. Come discover for yourself what you have been missing and experience firsthand a special place – Jacksonville has a lot to offer.